4-Piece Set Cutting Board
Regular price
$149.99 USD
Regular price
$169.99 USD
Sale price
$149.99 USD
Unit price
per
Sale
Sold out
- This 4-piece sustainable and luxury cutting board set is all you need for your kitchen's daily use. Perfect for slicing, cutting, and serving, the options are endless. Made in the USA from high-density pine leaf sustainable material, made by high temperature and high pressure, safe and healthy for your everyday meal preparation. NSF certified.

- Knife friendly, resist deep cut marks, and protects knives. Nonporous, do not absorb odor or harbor bacteria.

- Non-slip silicone feet to secure the board in place while rolling dough and prevent the board from shifting during use to protect you and surfaces.

- Featured deep groove design catch flour, liquids, sticky or acidic drippings from spilling over the counter.

- Solid durable fiberwood material resists warping and not easy to crack, durable for daily use.

- Built-in thumb hole for easy grip & move around in busy kitchen and storage.

- Need to cut veggies or meats? Simply flip the board over and explore your endless options with both sides. Designed to use different food types.

- Heat resistant up to 350°F, and can be used as a trivet. Maintenance-free, easy-clean, and 100% dishwasher safe.

- 4-piece set including: XL size : 14"x 19"x 3/8" Great with flour to knead, roll and shape bread, pasta, pizza, pie crust and pastries; L size: 12"x 16"x 1/4" Excellent for veggies; M size: 10"x 13"x 1/4" Perfect for meat preparation; S size: 7"x 10"x 1/4" Ideal for fruits, nuts and cheese serving.
Share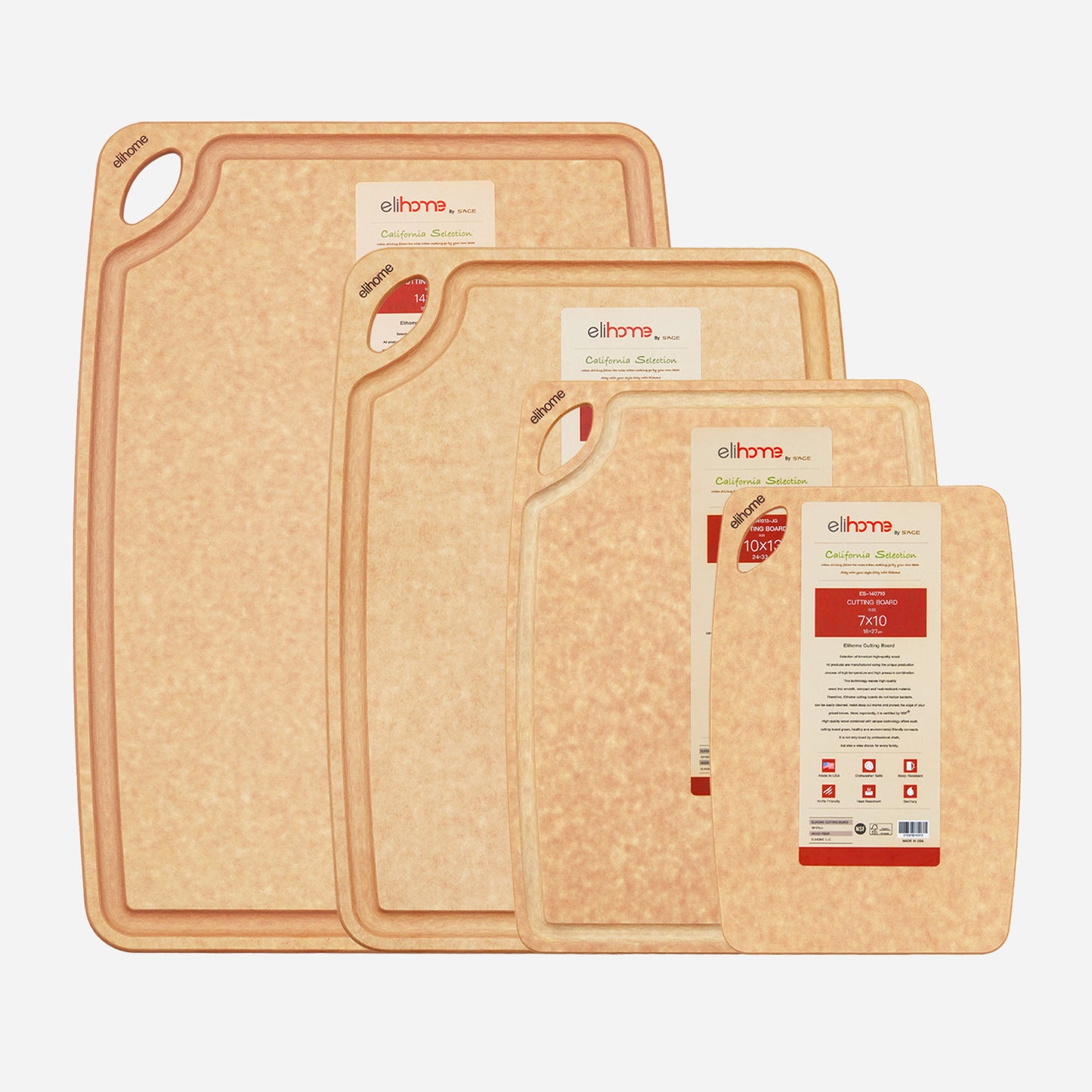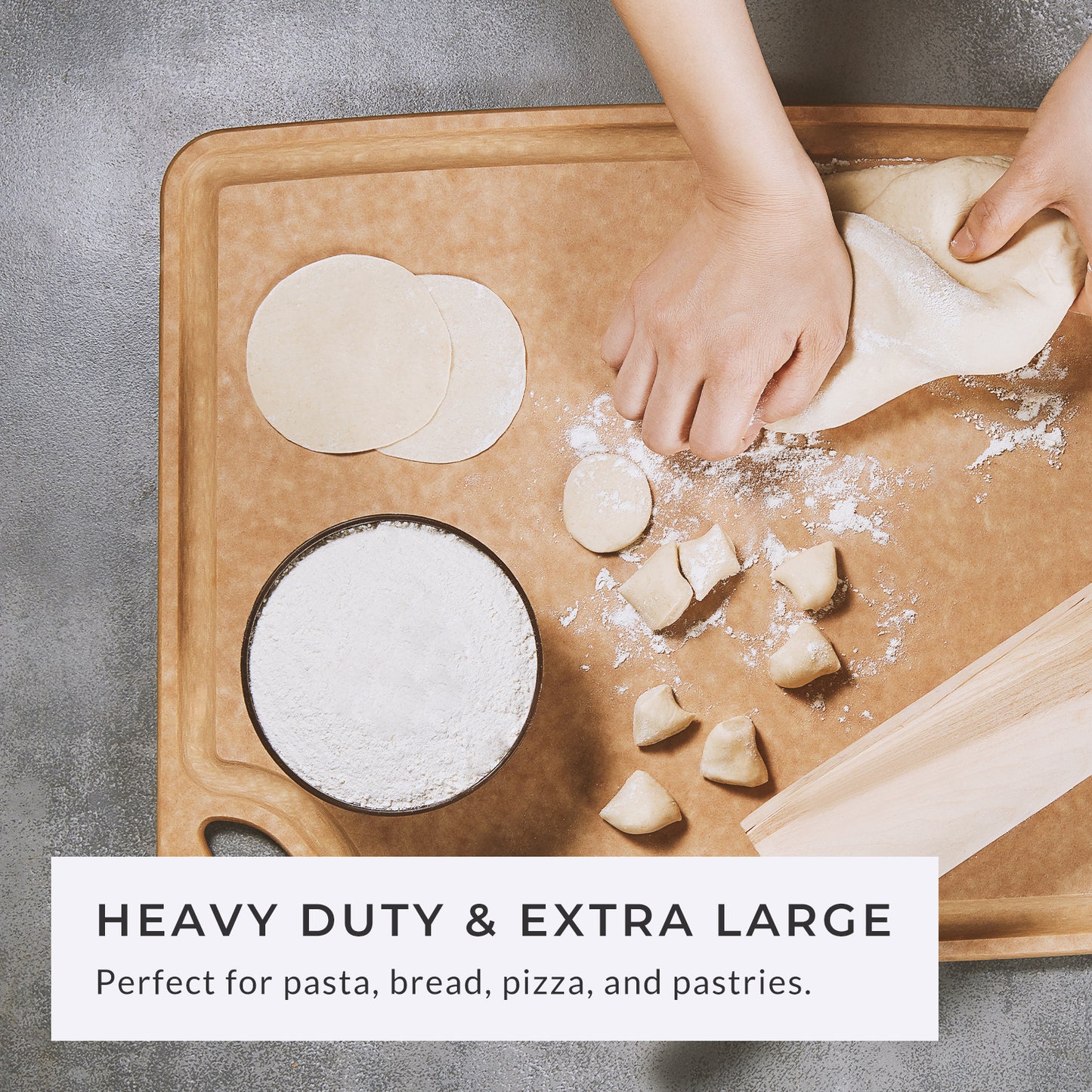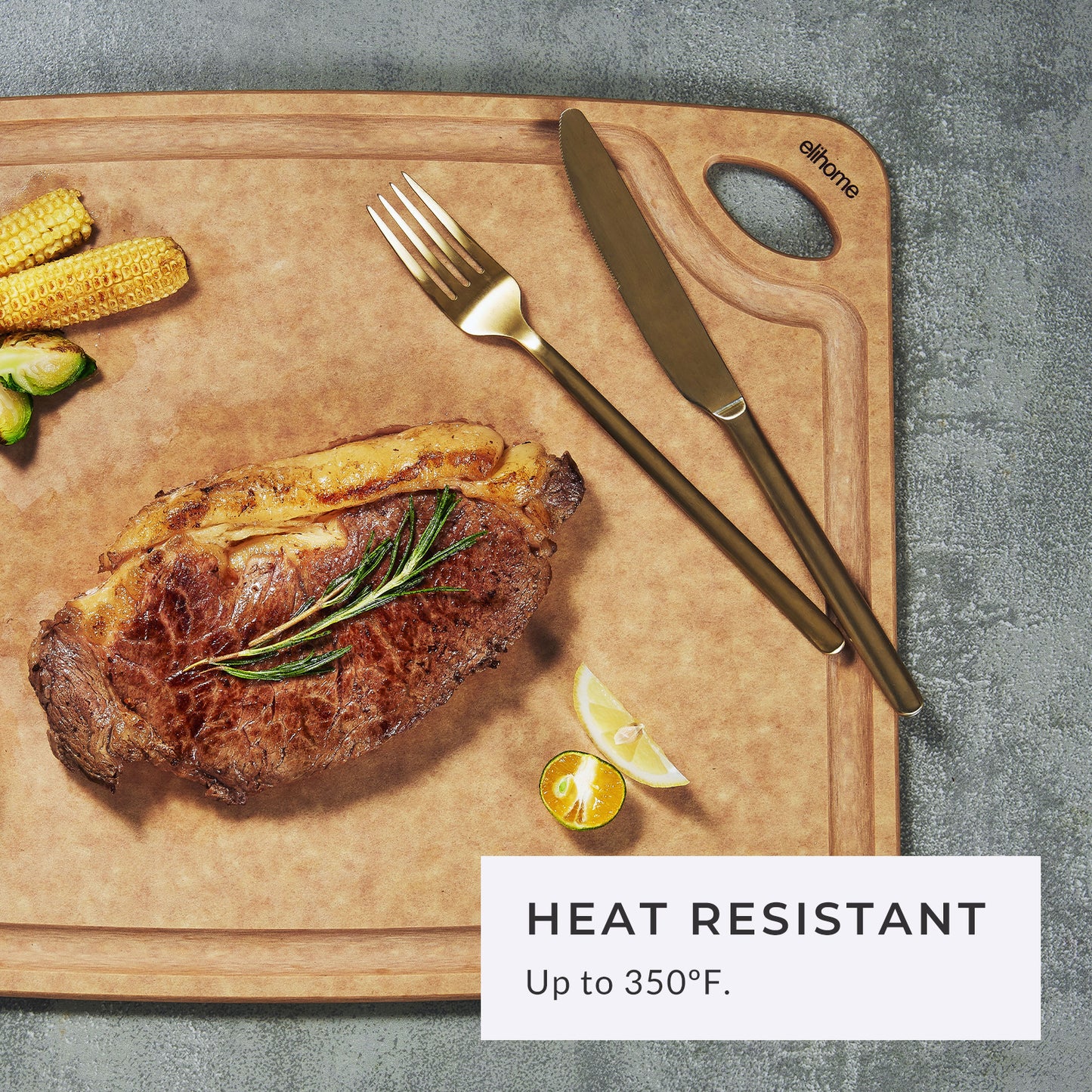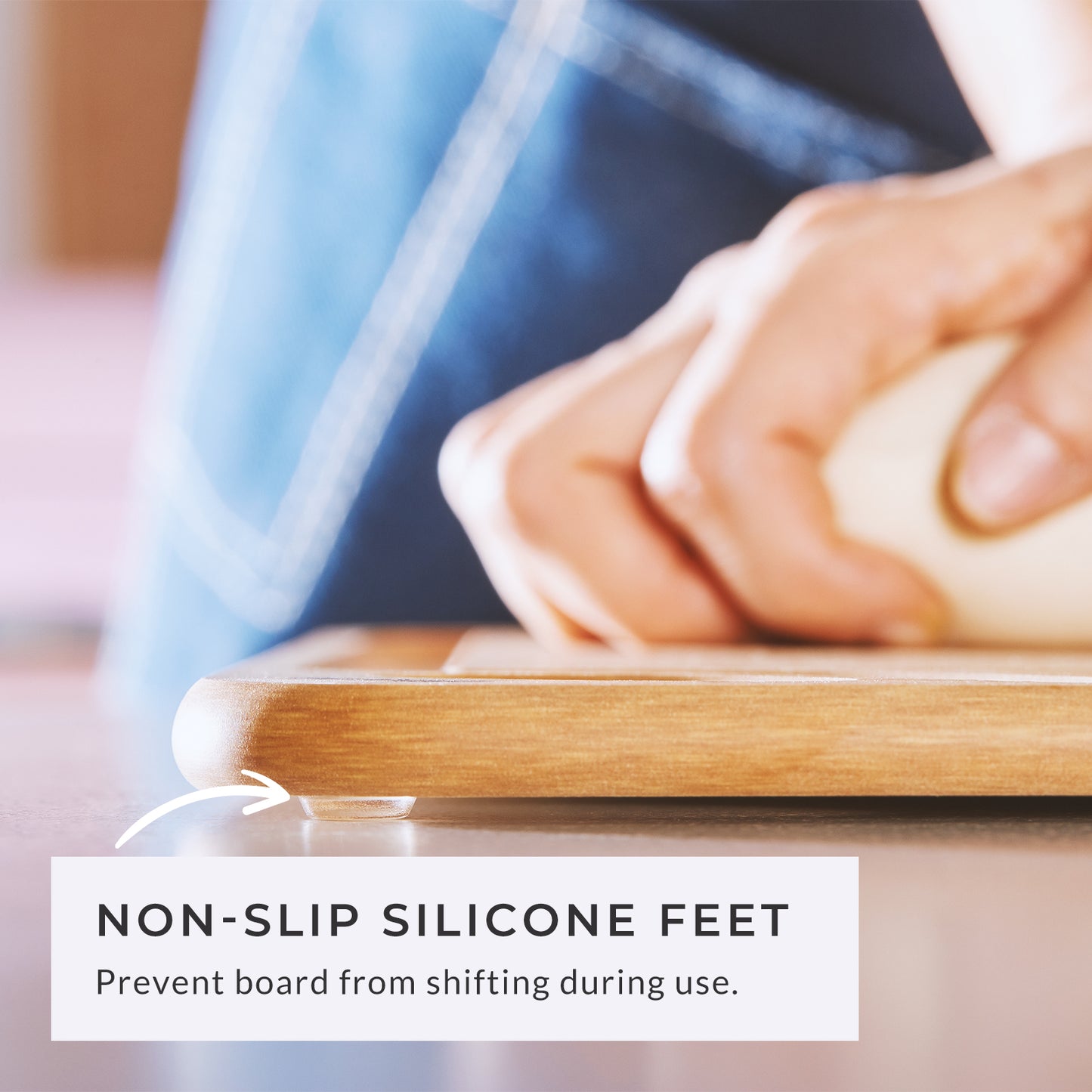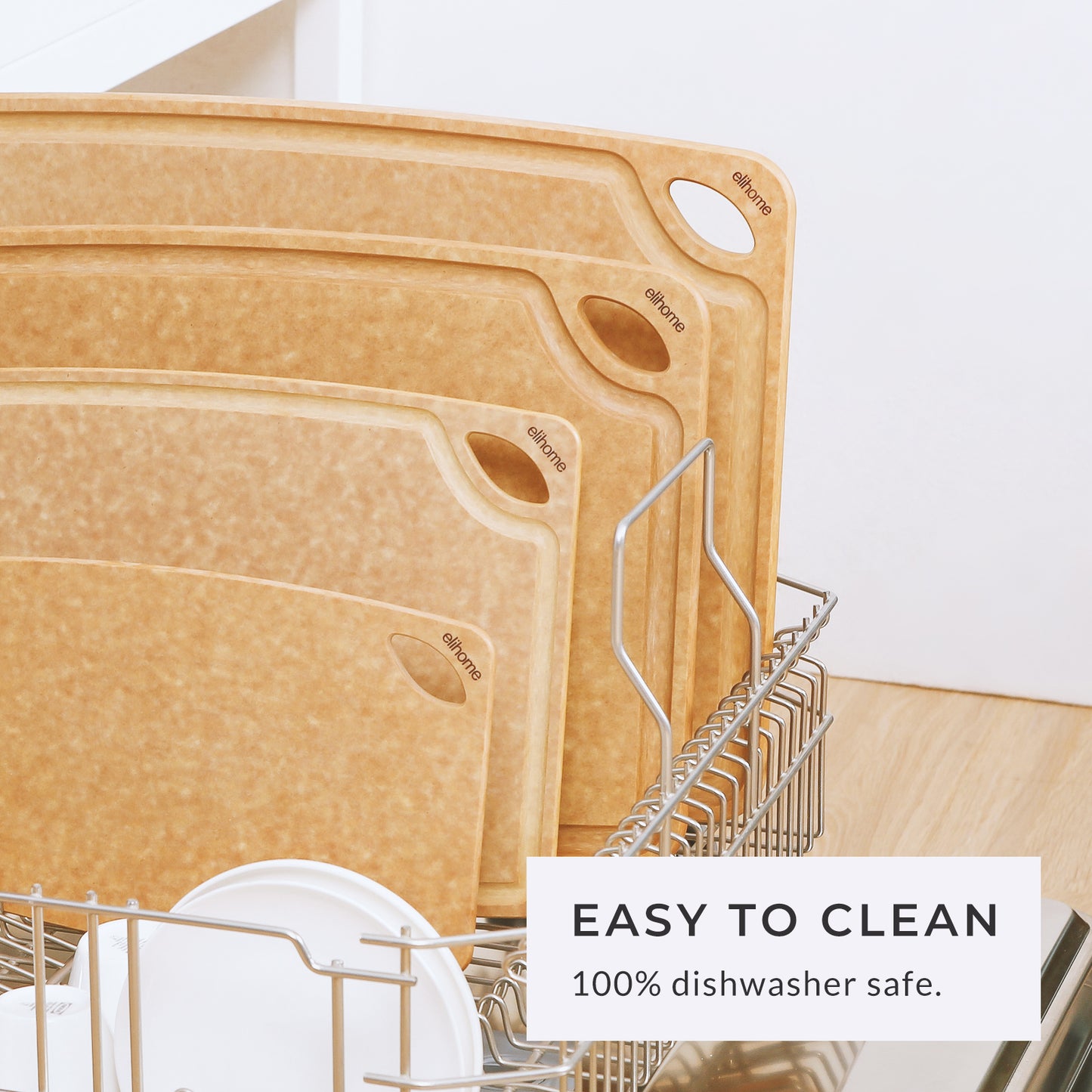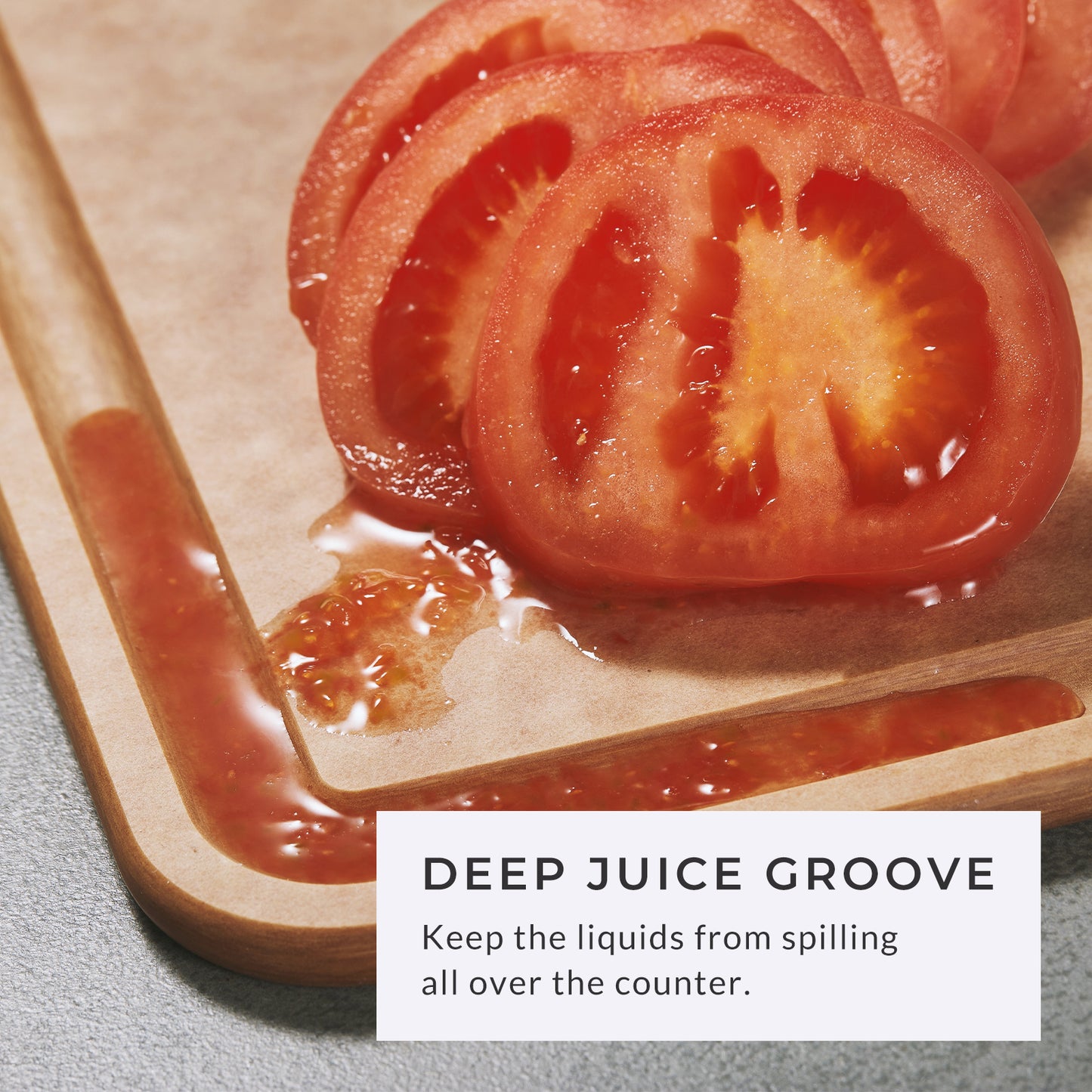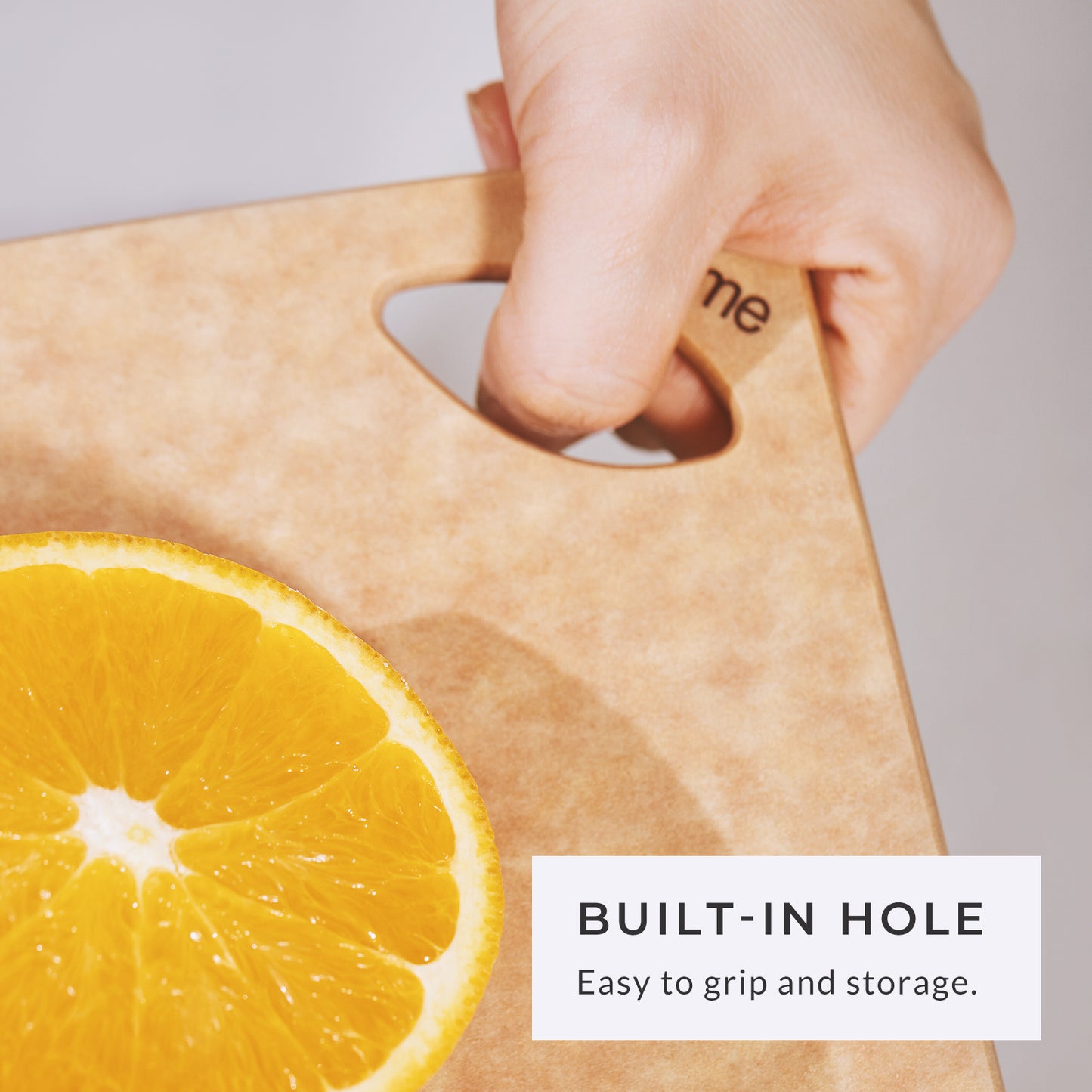 The Perfect Gift For All Occasions!
I was recently gifted a set of elihome cutting boards, and I must say they exceeded my expectations in every way. These high-quality cutting boards have become an indispensable tool in my kitchen, and I am delighted to share my experience through this review.
First and foremost, the durability of elihome cutting boards is simply outstanding. Crafted from premium materials, they exhibit remarkable strength and resilience, making them perfect for daily use in a bustling kitchen environment. These boards are built to last, withstanding heavy chopping, slicing, and dicing without showing any signs of wear and tear.
One aspect that truly sets elihome cutting boards apart is their innovative design. They come in various sizes, allowing for versatility in food preparation. The boards feature a reversible design with a flat surface on one side, ideal for everyday cutting tasks, and a groove-patterned surface on the other side, which effectively collects juices from fruits, vegetables, and meats, preventing any potential mess on the countertop. This thoughtful design ensures a clean and organized cooking experience.
Furthermore, the knife-friendly nature of elihome cutting boards deserves special mention. The smooth surface of the boards is gentle on the blades, reducing the risk of dulling or damaging them. This feature is essential for maintaining the sharpness and longevity of your kitchen knives, which is crucial for achieving precise cuts and preparing delectable meals.
Cleaning and maintaining these cutting boards are a breeze. elihome boards are non-porous, which means they resist absorbing liquids and odors. After use, a simple rinse with soap and water is sufficient to keep them hygienic and ready for the next culinary adventure. Additionally, these cutting boards are dishwasher safe, making cleanup even more convenient for busy individuals.
The overall aesthetics of elihome cutting boards are visually pleasing. Their sleek, modern design adds a touch of elegance to any kitchen countertop. Whether you're a professional chef or a passionate home cook, the appealing appearance of these cutting boards will enhance the aesthetic appeal of your culinary workspace.
Finally, I must commend elihome for their commitment to sustainability. These cutting boards are made from eco-friendly materials, ensuring a minimal environmental impact. As an eco-conscious consumer, it brings me great joy to support a brand that prioritizes sustainability.
In conclusion, elihome cutting boards have completely won me over with their exceptional quality, durability, versatility, and eco-conscious approach. They have become an integral part of my culinary routine, and I wholeheartedly recommend them to anyone in need of a reliable and visually appealing cutting board. With elihome , you can elevate your cooking experience and enjoy the art of food preparation like never before.
Durable, Attractive, Knife-friendly (also see my sticker removal strategy)
For me, this set of cutting boards is replacing a mix of bamboo boards (that always end up splitting) and cheap plastic boards, and I am so pleased with these new ones!
The two most important things are that they do not damage my knives, and they are non-porous. These are high quality cutting boards.
Beyond the huge quality improvement from what I had, I also love that they are much thinner than my bamboo boards, therefore taking up less space when leaning again the backsplash where I keep them. They are also very attractive, and the matching set looks so much better than my random collection of boards accumulated over the years.
Other observations would be that only the largest board has the rubber feet. If you decide you would prefer that the others did as well, just pick up a pack of 3M rubber bumpers and add some.Also, regarding the complaints on the big labels on every board - there is a trick to removing the labels to minimize residual adhesive. Do NOT just grab the corner and pull straight up. Slowly peel from the corner, and pull the label towards you while slowing lifting it up. If that sounds too abstract, I've demonstrated in my video what I mean. Even if there is some residual adhesive on the boards, it's actually easy to remove. But there's a trick for that as well. It appears to be rubber cement, and my years in art school have taught me that the best way to remove it is to rub it with the palm of your hand until it just balls up and you can brush it away.
With those two techniques, the adhesive was a non-issue.
Very nice set of cutting boards
I do like these cutting boards. They are replacing some flexible plastic cutting surfaces that have curled up and are not really usable. These are really solid. Like bamboo only with tighter grain. They seem to be pretty impervious to cutting, though they recommend against using them with a heavy chopper.
The different sizes are a good idea. I've always used cutting boards that are about the same size (except for cheese) about 18" x 12" which is more or less the size of the biggest board in this collection.
The *best* point for me (and unlike natural wood or bamboo cutting boards) is that these are DISHWASHER SAFE!. Yea! I really don't need more hand-washed items thank you very much.* Apart from the fact it's a chore, hand washing uses way more water than loading everything into a dishwasher and running one load.
Well recommended!!
DREAM COME TRUE
I have been watching this Cutting Board for a very long time. Because of the price, I just could not bring myself to buy one. Plus I did not know if I was going to like it or was it really a good purchase or did I really needed it? The one factor that kept me interested was this board is MADE IN USA. I (and everyone I know) have been trying our very, very best to support local businesses. We are trying our best to buy MADE IN USA products. When I saw the price reduction I jumped on it. My first cut on this board was like.... YES! The feeling of my knife on this board was just 5 stars. This board is sturdy, knife did not slice into board, board did not move / slide, knife moved extremely smoothly on the board, the carrots sliced very well... I used ceramic knives as well as stainless steel knives on this board. Both knives worked so well, I will never use any other Cutting Board. Board cleans really well. No stains of any kind. No knife marks so far. But as much as I cook and I cook A LOT. I cook Korean, Chinese, Japanese, Indian, Western... I don't mind if there are marks on the board. I will be hoping for the larger board for a very long time. This board, though pricey to me, it is worth every single penny. I have used a variety of other Cutting Boards made of a variety of materials. NOTHING compares to this one.